Bulldog, also known as the British Bulldog or English bulldog, is a medium-sized breed of dog. It is a muscular, hefty dog with a wrinkled face and a distinctive pushed-in nose.
According to a study, they are the fifth most popular dog breed found in the US.

Reading: Life span of english bulldogs
Bulldogs are known to be a dependable and gentle dog breed that make great family pets. They are a very sociable animal. A mature male may weigh 50lb (23kg), while mature females can weigh about 40lb (18kg).
The modern bulldogs are genetically modified from their predecessors. The excess modification to fit the boutique model made them prone to many physical ailments that can cause their lives.
According to a health study of 180 bulldogs made in 2004, the research found out that 20% died from cardiac-related issues, 18% died of cancer, and 9% died of old age. The dogs who died of old age lived up to 10-11 years.
Allergy
Bulldogs are one of the breeds susceptible to allergies. The symptoms of allergy may include:
Itchy and runny eyes
Irritated skin
Excessive scratching
Pawing at eyes
Mast cell tumor
Mast cells tumor generally occur through allergic reactions. The immune cells contain chemicals or granules that are released upon stimulation by an allergen. These cells are located throughout the body and within the skin. This is a more slow-growing cancer in dogs, however, more aggressive mast cell tumors grow faster and may ulcerate.
As reported by Pets.WebMD.com, "Mast cell tumors most commonly occur on the trunk of the body, though they are found on the legs about 25% of the time."
Brachycephalic Airway Syndrome
Brachycephalic dogs such as Bulldogs have a short and pushed-in nose. Because of their short nose and narrow nostrils, Bulldogs are prone to breathing problems, panting, chronic discomfort, exercise intolerance and difficulty eating.
Obesity in dogs can worsen the breathing problem, hence you must keep your bulldog lean and healthy.
Cherry Eye
Also: Best flea treatment for puppies
Dogs are gifted with three eyelids, where two are readily visible and third one is faintly visible. It consists of tear-producing glands in dogs. The gland remains hidden from outside until the dogs are affected with congenital weakness in ligaments which causes the glands to pot out of their place. It looks like a 'cherry' popping out of their eye.
Dermatitis
Bulldogs mainly suffer from skin fold dermatitis or skin inflammation due to the excessive rubbing of skin and trapping of moisture in the tail, lip and facial folds. It is essential to clean their wrinkles and keep moisture-free frequently to prevent bacterial growth. Skinfold dermatitis is easily identified as hairless (alopecic), reddened, and bad smell areas of folded skin or wrinkles.
Hip and Elbow Dysplasia
Hip and elbow dysplasia are common in bulldogs that cause the malformation of the hip and elbow joints. It can cause pain, lameness, decreased activity, difficulty rising, and reluctance to run, jump, or climb stairs. You can decrease the chances of hip and elbow dysplasia in them by taking them on regular walks. Obesity may also give rise to dysplasia.
Heat Sensitivity
Bulldogs are heat sensitive dog breeds. Their heat intolerance is related to their breathing issues. Although they do not tolerate the rigorous exercise, they can tolerate short daily walks.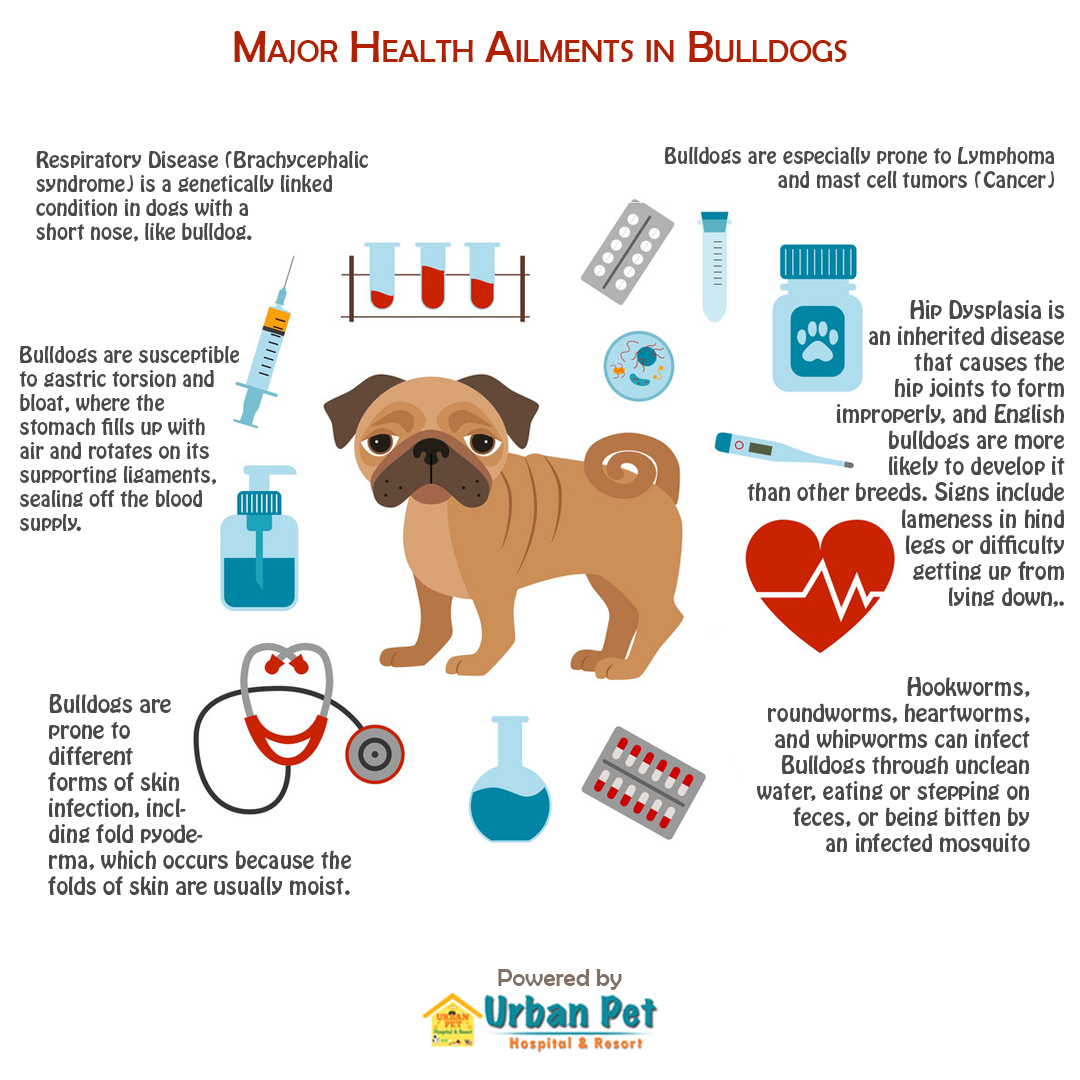 What is the life expectancy of a bulldog?
Although the breeders may say that the average bulldog lifespan is 8-10 years. If your bulldog lives 11-12 years, consider yourself lucky!
It's well known that bulldogs suffer from a variety of physical ailments that make them particularly unhealthy. The breeding to the extremes of the physical features makes them prone to diseases and short lifespan.
Bulldog Life Expectancy
A healthy English bulldog has an average life expectancy of 10-11 years. The median lifespan is 8.4 years for the English bulldog.
The French bulldog's life expectancy is 10-12 years.
The American Bulldog's life expectancy is 10-15 years. The American Bulldog is the healthiest of the bulldog breeds, hence the longest lifespan.
Are Bulldogs Expensive to Take Care Of?
Bulldog puppies from small-scale breeders are likely to cost between $1,500 and $4,000. Most bulldogs are also sold at just $1000-$1200, however, they are mostly bred at puppy-mill that makes them prone to various physical ailments.
Maintaining a bulldog's health and lifestyle doesn't come cheap. The annual bill for the vet, food, supplements, and training can go over $5000.
Dog Insurance – $500-$1200/year.
Food – $500-$800/year. Bulldogs need a special type of food, so the choice of cheap options may be quite limited.
Supplements for joints – $100/year.
Anti-parasite/flee etc treatments – $300/year. May be less if you don't go where ticks are and opt out of that part.
These are essentials. Now, regular monthly costs: treats, additional food products, potty bags, toys (they destroy them quickly), chew bones – $300-$500/year. Some things you can buy in dollar stores and online in bulk.
Occasional boarding – at least $20-30 a day is dedicated boarding places.
How to take care of an English bulldog puppy?
a. Feeding
You should change their food brands gradually to ensure optimum nutrition is met. Dogs may not immediately accept a new brand, hence, you can introduce it to them slowly. Mix 1/2 and 1/2 for a week, then 1/4 and 3/4 for a week, then full change over.
Read more: Will tomato juice get rid of skunk smell
You should feed your dog (pup) three times a day for the first four months after arrival. After 6 months, you can curb the meal to only 2x times a day. After 12 months you can curb to once a day.
Avoid feeding your dog human food or directly from the kitchen. Examples of popular human-dog toxic to dogs are;
Avocados
Alcohol
Chocolate
Grapes and raisins
Chives, onions, and garlic
Nuts
Yeast doughs
Anything made with the sweetener xylitol especially found in sugar-free gums
b. Caring
Caring and monitoring your pup's health is essential. Your bulldog may develop diarrhea when a new brand of food is introduced. In such a case, stop all food for 12 hours. If the symptoms persist for more than 24 hours, contact your vet immediately.
To prevent infections, provide puppy preventative treatment from local pests. Ticks, fleas, mites, lice, and intestinal worms are a common form of infections.
Heartworm is one of the common heart diseases among most dogs. Known as Dirofilaria Immitis, the heartworm or dog heartworm is a parasitic roundworm that looks like a small thread-like creature.
Symptoms of Heartworm in Dogs
A soft and dry cough
Inactivity or lethargy
Weight loss or anorexia
Rapid or difficulty breathing
Bulging chest
Allergic reaction
Collapse
Take your pup for regular veterinary checkups. The veterinarian will examine the puppies to make sure there are no hernias, heart, lung, or eye or ear problems in any of the pups.
At the 12 weeks visit the rabies vaccination will be given—although this may vary depending on local laws. This vaccination is required by many communities.
c. Grooming
Bulldogs need frequent grooming. You should carefully examine each day for signs of infections. The wrinkles should be gently washed and thoroughly dried at least every other day.
The English bulldog's short hair coat will shed so a thorough brushing once a week with a soft-bristled brush is recommended. While you're grooming, keep an eye open for any fleas, ticks, or mites, along with any lumps, bumps, or cysts on the skin.
Also: Can you eat a mint leaf